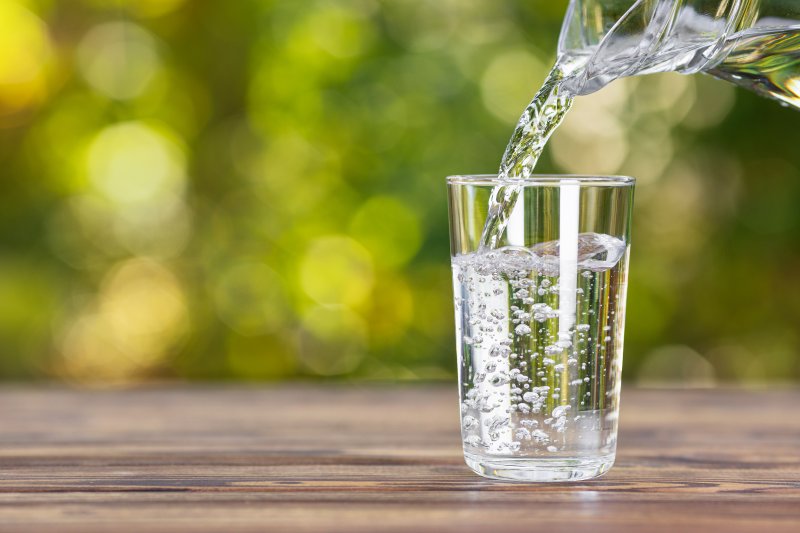 Water is truly one of the best beverages for your oral and overall health. Since our bodies are made of 60% water, it only makes sense that hydration is essential to keep everything running smoothly. It helps our system distribute healthy nutrients, eliminates waste, and it gives our skin a healthy glow. Although few people consider water to be a crucial part of their dental care routine, it's definitely helpful in preventing oral health problems. Read on for a few reasons why water is considered the best drink for your smile!
Water Keeps Your Mouth Clean
While eating a meal or snack, you may be tempted to wash down your food with juice, soda, or a sports drink. Even though these options are certainly tasty, they can be detrimental to your pearly whites. They leave unwanted sugar behind on your teeth, giving cavity-causing bacteria something to feed on. The bacteria then produce a harmful acid that wears down the enamel, leaving your teeth vulnerable to issues like decay and gum disease.
Meanwhile, water cleans your mouth with every sip. It washes away any leftover food and residue that has accumulated throughout the day. What's more, it dilutes the acids produced by the bacteria in your mouth. Because water keeps your mouth clean, it goes a long way in keeping your smile cavity-free.
You Can Prevent Dry Mouth
Believe it or not, saliva plays a crucial role in keeping your mouth healthy. The natural cleansing agent is your smile's first defense against tooth decay. Like water, it also helps wash away leftover food. When your mouth isn't producing enough saliva, you will experience dry mouth, which puts you at an increased risk of developing tooth decay. Fortunately, drinking water can temporarily minimize your risk. It'll help fight dry mouth while you and your dentist look for a long-term solution that works best for you.
It's a Calorie-Free Drink
Soda, tea, and sports drinks are high in sugar and calories. As a result, drinking them increases your risk of cavities and other unhealthy consequences like weight gain. Well, water does the exact opposite! Studies have shown that it can actually help you lose weight since it contains zero calories. That's something you should definitely keep in mind next time you're craving a sweet beverage!
Hydration is the key to a healthy body and smile. By drinking the recommended amount of water every day, you can keep your overall health in its very best shape!
About the Practice
At Aesthetic Dental Studio of RI, we believe that taking care of your smile means taking care of your entire body. Our team will help you maintain optimal oral health by administering treatments and using materials that take your overall health into account. If you'd like to learn more about the benefits of hydration, visit our website or call (401) 232-7777.