Dental Implants – North Providence, RI
The Comprehensive Approach to Replacing Missing Teeth
Over the last several decades, dental implants have emerged as one of the most popular treatments for tooth loss. It's because they offer a wide array of unique benefits that distinguish them from traditional restorations, like jawbone preservation and improved oral and overall health. Our team conducts the entire tooth replacement process with dental implants in our North Providence, RI dental office, using biocompatible zirconia, allowing patients to enjoy safe, natural-looking and feeling smiles with the convenience of sticking to the same team of professionals that you trust.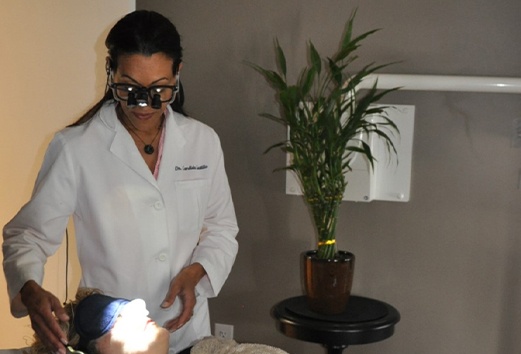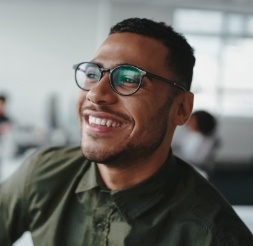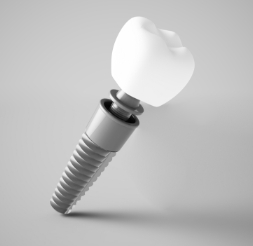 Why Choose Aesthetic Dental Studio of RI for Dental Implants?
Start-to-Finish Dental
Implant Treatment
We're Dental
Insurance-Friendly
Biocompatible, Holistic
Zirconia Implants
What are Zirconia Dental Implants?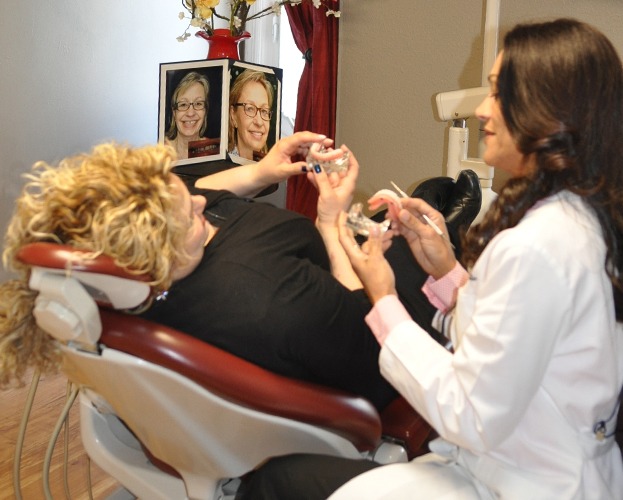 Zirconia Dental implants themselves are small, sturdy posts that we can place below your gumline to restore the root structure of any number of missing teeth. Due to biocompatible nature of our materials, they're able to naturally fuse with the jawbone through a process called osseointegration, allowing them to function exactly how the roots of your natural teeth do. Once they've done this, we can attach a customized restoration, like a dental crown or bridge, to them so you can enjoy lifelike, fully functional prosthetics.
The 4-Step Dental Implant Process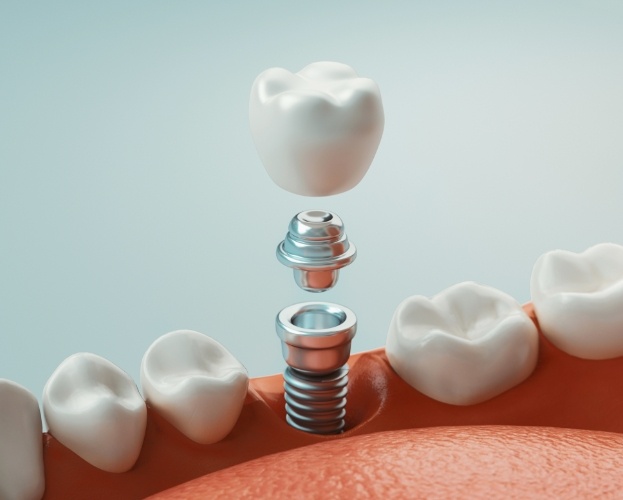 The dental implant process is customized for each individual patient, but there are four major steps that everybody must go through:
Initial Dental Implant Consultation. At this initial visit, our dentists will examine your mouth, talk to you about any expectations or smile-goals you have, and help you determine whether this treatment is the right choice for you. They'll also outline a customized treatment timeline, so you know what to expect moving forward.
In-House Dental Implant Surgery. Our experienced dental team conducts the entire dental implant treatment in-house, including the surgery. Once you've received any necessary preparatory procedures and you're ready to get the process started, we'll surgically place your dental implants below your gumline and into your jawbone.
Osseointegration & Abutment Placement. During your recovery period, you'll also be undergoing the process of osseointegration, where your dental implants will fuse with your jawbone. This is what provides them with unmatched strength and stability and is a crucial part of the process. Then, we'll attach small, metal connector pieces to the top of your dental implants.
Securing of Customized Restorations. Once your customized, final restoration arrives at our dental office, we'll secure it to the abutments of your dental implants to complete your smile.
Benefits of Zirconia Dental Implants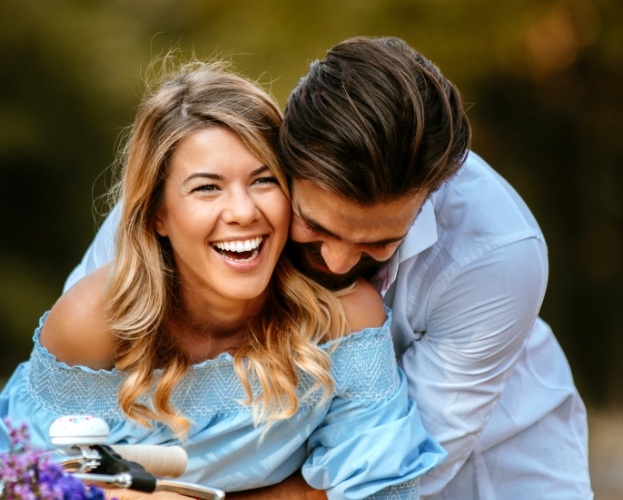 Dental implants have so many unique benefits to offer that makes them a popular tooth replacement treatment among patients, including:
Preservation of jawbone density
Prevent premature facial sagging by maintaining the facial structure
Enhanced eating and speaking abilities
Easy to maintain
A lifespan of 35+ years with proper care
Natural looking and feeling replacement teeth
Zirconia implants provide a safe, holistic-friendly solution
Who Can Dental Implants Help?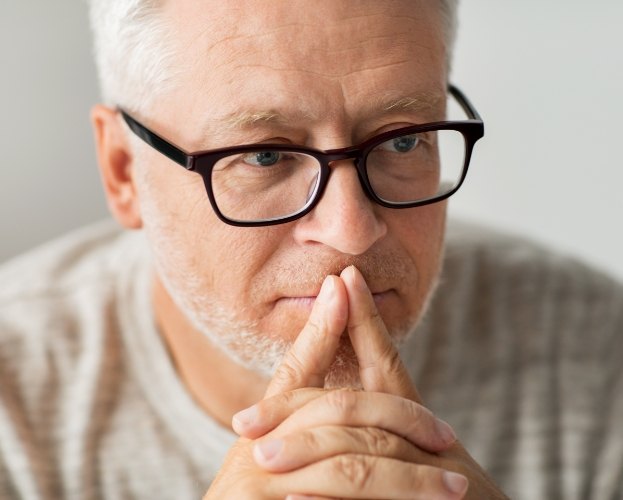 Dental implants can help patients who are missing one or more teeth and are looking for a comprehensive tooth replacement treatment. Even if you're not a good candidate for this procedure right off the bat, we can definitely help get you there with advanced preparatory treatments like tooth extractions, bone grafts, sinus lifts, and gum disease therapy. At your initial consultation, we'll develop a customized treatment timeline and walk you through how dental implants can restore your smile.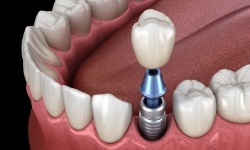 Missing Single Tooth
For a single missing tooth, we can place one dental implant below the gumline and into the jawbone to restore the root structure. Once it has fused with the bone and the abutment has been secured, we'll attach a customized dental crown. The best part about this method of replacing one tooth is that it doesn't require any alteration of your healthy, surrounding teeth.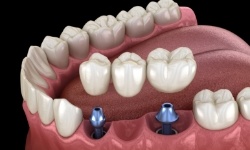 Missing Multiple Teeth
For multiple missing teeth, instead of getting a dental bridge that's anchored to your natural teeth, we'll secure the prosthetic to two dental implants that are placed at either end of the gap in your smile. Once the restoration is attached, you'll be able to enjoy your entire arch of teeth.
Understanding the Cost of Dental Implants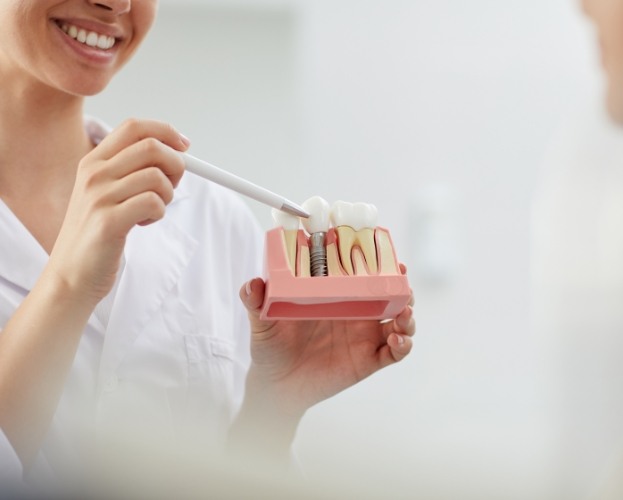 The cost of each patient's dental implant treatment varies based on a variety of factors, including how many implants you need to have placed, what type of prosthetic you'll require, and whether you need any preparatory procedures. Our team is more than happy to help you navigate financing options and break down each portion of the treatment and its cost. If you have any questions or concerns, don't hesitate to let us know!
Biocompatible Zirconia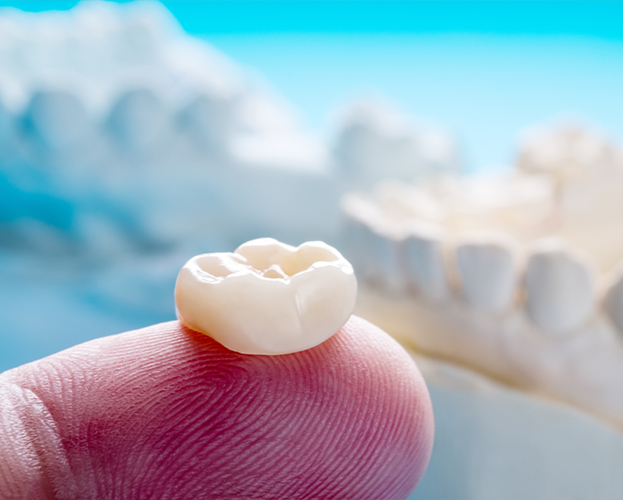 Our team primarily uses biocompatible, metal-free zirconia for dental implants because of its durability, its longevity, and its outstanding health benefits. Unlike more traditional options, zirconia does not have reactions with certain metals and prompt unwanted bodily reactions, which makes it ideal for patients who struggle with sensitivites or outright allergies to certain metals found in dental care. Better yet, its hard ceramic nature is still extremely lifelike, which means you can smile with full confidence once your new "tooth" or "teeth" are complete. No one will be able to tell the difference!