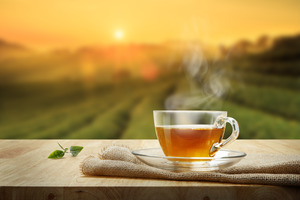 Tooth decay is considered the second most common disease after the common cold. In fact, roughly a quarter of all adults currently have a cavity! Fortunately, there are several things you can easily do to prevent tooth decay. And while regular brushing is of the utmost importance, there are also several holistic remedies that can help you fight off cavity-causing bacteria. Below are 3 natural remedies that can help you protect your smile.
1. Tea
A cup of tea can calm the nerves, but did you know that it could also be good for your teeth? Several studies show that drinking tea regularly can reduce the number of harmful bacteria in your mouth, lowering your risk of tooth decay. It can also have other oral health benefits as well; for example, drinking green tea can help get rid of the sulfur compounds in your mouth that cause bad breath.
Be aware, though, that adding lemon or sugar to your tea could cancel out the oral health benefits. Lemon can weaken your enamel, and sugar feeds the bacteria that cause cavities. As such, if you're trying to protect your teeth, it's best to drink unsweetened or sugar-free tea.
2. Cranberry
Cranberries contain nutrients that can help fight tooth decay. In particular, a study published in the journal Beverages found that the polyphenols in cranberry juice can suppress the growth of plaque-forming bacteria. The anti-inflammatory properties of cranberries may also lower the risk of gum disease.
Adding cranberry juice to your diet can be a great way to give your oral health a boost. Just make sure that the juice doesn't have any added sugars. Also, cranberry juice can potentially stain your teeth, so if you want to keep your smile looking bright, rinse your mouth with water after you've finished your drink.
3. Shiitake
Shiitake is a type of edible mushroom that has several medicinal benefits. It contains a compound called lentinan, which can actively fight harmful oral bacteria to protect your smile from cavities. Some studies show that lentinan can also help remineralize the teeth, repairing any damage they might have suffered during the day.
Shiitake mushrooms can be prepared in a variety of ways. If you'd like to add shiitake mushrooms to your diet, try looking up some recipes online and see what grabs your eye.
Keep in mind that the remedies listed above can lower your risk for tooth decay, but they're not a substitute for professional dental care. If you think you might have a cavity, you should make an appointment with your dentist as soon as possible. When it comes to protecting your smile, it always pays to be proactive.
About the Author
Dr. Candida Castillo is a biological dentist with over 25 years of experience. She achieved her Biological Certification from the International Academy of Biological Dentistry and Medicine. At her North Providence practice, Aesthetic Dental Studio of RI, she provides natural solutions for tooth decay and other oral health problems. To schedule a consultation with Dr. Castillo, visit her website or call (401) 232-7777.