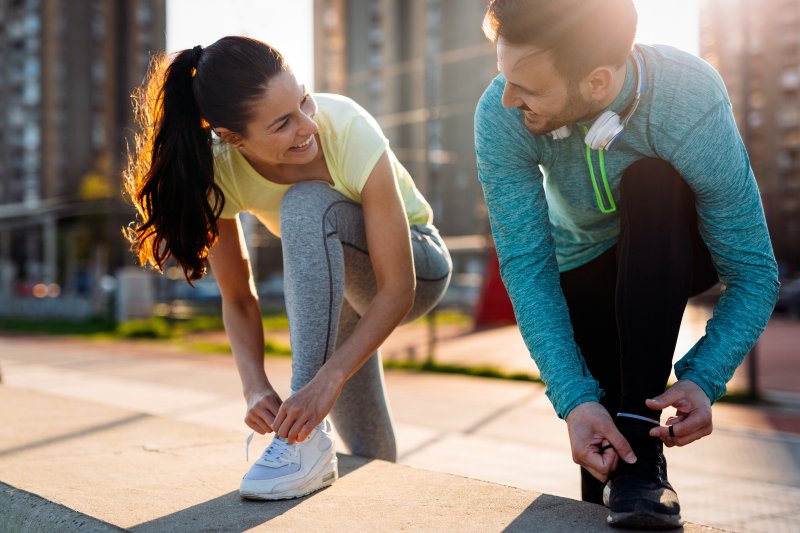 There are quite a few things that you can do to stave off gum disease. Many of them are obvious; brush your teeth, floss away plaque, and see your dentist for biannual cleanings and checkups.
However, there are also preventive measures you can take that have nothing to do with hygiene. These are lifestyle changes that not only better your health, but your teeth as well. For example, regular exercise can do a lot to prevent some of the worst aspects of gum disease.
If the connection doesn't seem clear, here's a little more information about why that is.
Why is Gum Disease Such a Problem?
One of the primary ways that gum disease hurts your oral health, and one of its most prominent symptoms, is inflammation along the gumline. That inflammation can cause bleeding, irritation, and a fair amount of discomfort.
In advanced cases, gum disease can lead to a condition known as periodontitis, which can attack the gum and bone tissue that hold teeth in place. If severe, this can actually lead to tooth loss.
How Can Exercise Help with Gum Disease?
Inflammation has been the subject of a lot of studies as of late, and as it turns out there are quite a few things that people can do to reduce their inflammatory response. According to recent science, exercise is one of them.
One study in the Journal of Clinical Periodontology studied rats with gum disease at various levels of exercise They study found that the rats that worked out more often were less likely to experience inflammation and tooth loss. This comports with studies conducted with humans in the past, like one from 2005 that found that exercise, and healthy eating, leads to much lower rates of periodontitis.
If this science is to be believed, then exercise could help you prevent your gum disease from getting worse. If you want to take care of your oral health, you should follow up on your brushing and flossing with lifting and jogging.
About the Author
Dr. Candida Castillo has been a dentist for over 25 years, and in that time she's developed an approach to dentistry that focuses on treating people, not just diseases. Her holistic approach to dentistry has allowed her to help thousands of patients over the years to better their life. Dr. Castillo graduated from Boston University, and she has since earned the title of Fellow from the Academy of General Dentists, a distinction held by less than 7% of dentists in the U.S.
If you have any questions about how exercise can improve your oral health, she can be reached at her website or by phone at (401) 232-7777.